You know I'm only doing this for myself but ... please help me to expand and revise this article.
It needs more information and extensive content proofreading. You can help You-Zitsu Wiki more by doing the same thing to other stubbed articles.
Kikyō Kushida
 Kanji
櫛田 桔梗
 Romaji
Kushida Kikyō
 Title
D-Class Idol
General Information
 Gender
Female
 Age
16
 Birthday
January 23
 Zodiac Sign
Aquarius
Physical Attributes
 Height
155 cm
 Hair Color
Beige
 Eye Color
Crimson Gradient
 Size(s)
B:82
W:55
H:83
Personal Status
 Status
Active
 Like(s)
To be able to get along with others even with strangers
 Dislike(s)
Whenever people don't get along well
When people see her real personality
Professional Status
 Occupation
Student
Debut
 Novel
Volume 1
 Manga
Chapter 1
 Anime
Episode 1
Portrayal
 Japanese
Yurika Kubo (Anime)
Minami Takahashi (PV 2015)
 English
Sarah Wiedenheft
Kikyō Kushida (櫛田 桔梗, Kushida Kikyō?) is one of the female protagonists of the You-Zitsu series. Following the entrance exam, she was placed in D-Class. She is quite popular among her class as well as the whole school as she aims to befriend everyone.
Appearance
Edit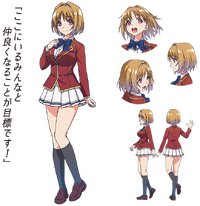 Kikyō is a teenage girl of average height with crimson gradient eyes and short beige colored hair. She is noted for having a well-endowed figure and is considered attractive by the boys of her class.
When outside school, she wear a light blue dress with a white color and has teal colored jacket covering it.
Personality
Edit
She boasts tremendous popularity among students as the D-Class' idol. She aims to be friends with everyone not just in D-Class. She wants to get along well with her classmate Suzune Horikita.
It is revealed that she also has a hidden side to her personality. She professes her hatred for Suzune, while Kiyotaka listened. She threatened him to not tell anyone or else she'd accuse him of sexual assault. She also felt no hesitation or uneasiness when she placed his hand on her breast as an evidence to her accusation. She returned to her kind-hearted self seconds after he promised he'd keep her secret, which left him to question over either personality were real.
References
Edit
Ad blocker interference detected!
Wikia is a free-to-use site that makes money from advertising. We have a modified experience for viewers using ad blockers

Wikia is not accessible if you've made further modifications. Remove the custom ad blocker rule(s) and the page will load as expected.