Sae Chabashira
 Japanese
茶柱 佐枝
 Rōmaji
Chabashira Sae
 Nickname
Sae-chan Sensei
Characteristics
 Gender
Female
 Age
26
 Height
160 cm
 Hair Color
Brown
 Eye Color
Brown
 Measurements
B86(F)/W59/H84
Professional Status
 Status
Active
 Affiliation
Advanced Nurturing High School
 Occupation
Teacher
Class 1-D Homeroom Teacher
Student (formerly)
Debut
 Novel
Volume 1
 Manga
Volume 1, Room 1
 Anime
Episode 1
Portrayal
 Japanese
Rina Satō
 English
Jennifer Alyx
Sae Chabashira (茶柱 佐枝, Chabashira Sae) is a Japanese history teacher and the homeroom teacher of class 1-D.
Appearance
Edit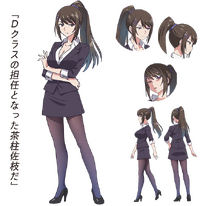 Sae Chabashira is a young adult woman with a well-endowed voluptuous body and long brown hair that is tied in a pony tail with brown eyes. She is mostly seen with a serious expression on her face though it does change into a smile on occasion.
Personality
Edit
As a teacher, she is very serious in her job as she makes sure to teach the class about their subject. She follows the school rules to the letter as shown when she bluntly told Ken Sudō he would be expelled from the school for failing the test.
She appears to have a sadistic side as she called her students disappointing as she informed the students that they wouldn't receive points after they blew through them in a month and took joy in their anguish. She also demanded a large sum of points from Kiyotaka to stop Sudō from being expelled, she did this because she knew that he didn't have the amount to pay for such a thing.
Despite that, she shows some leniency in teaching the class as while she was teaching the students were either sleeping or playing their phones. She was also willing to rescind Sudō's expulsion after Kiyotaka and Suzune paid her to halt their classmates' fate.
She seems to have taken an interest in Suzune and Kiyotaka as their selfless deed was something she had never seen at the school. She appears to recognizes the depths of Kiyotaka's intelligence and figure out that he was hiding his talents on purpose as he wouldn't be in the lowest ranking class if he was that amazing. She tried blackmailing him to reach Class A after his father requested he be expelled but he refused to comply.
She is shown to approach most things in complete indifference as shown when she was not fazed by Kiyotaka grabbing her by the collar after she ordered him to reach for Class 1-A, not even making a threat. She was also amused by Kiyotaka's refusal to comply with her and his father's wishes to advance even though she previously threaten to expel him.
According to herself, she has a life of regrets meaning there were some terrible events that transpired some time ago.
She has been seen smoking a cigarette when by herself.
She is a former student of D-Class.
She is among the few to acknowledge Ayanokōji's talents.
References
Edit

You know I'm only doing this for myself but...
please help me to revise this article.

It needs proper referencing to satisfy the sourcing guideline. You can help You-Zitsu Wiki more by doing the same favor to other specially stubbed articles.
Ad blocker interference detected!
Wikia is a free-to-use site that makes money from advertising. We have a modified experience for viewers using ad blockers

Wikia is not accessible if you've made further modifications. Remove the custom ad blocker rule(s) and the page will load as expected.