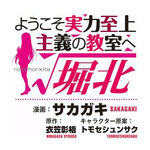 Yōkoso Jitsuryoku Shijō Shugi no Kyōshitsu e: √Horikita (ようこそ実力至上主義の教室へ √堀北, Yōkoso Jitsuryoku Shijō Shugi no Kyōshitsu e Rūto Horikita, Literally meaning "Welcome to the Classroom of the Supreme Ability Doctrine: √Horikita") is a spin-off manga based on the original light novel series written by Shōgo Kinugasa and illustrated by Sakagaki. It's a what-if story taking place in parallel world which focuses on Kiyotaka Ayanokōji and Suzune Horikita. The series has been monthly serialized on Monthly Comic Alive since June 27, 2017.
Synopsis
Edit
From volume 1's synopsis:
A what-if story focusing on Suzune Horikita, the cool beautiful girl from the popular school revelation
From MF Bunko J's hit, a what-if route where the protagonist, Kiyotaka Ayanokōji being attached to D-Class' lonely beautiful girl as the main story finally begins! Kiyotaka and Suzune, what the two will get, a happy ending or……?[1]
Releases
Edit
The first compilation volume was published under Media Factory's MF Comic Alive Series imprint on November 22, 2017.
References
Edit
External Links
Edit