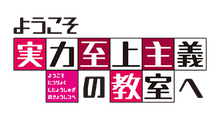 Welcome to You-Zitsu Wiki, a mediawiki-based encyclopedia dedicated to everything about Shōgo Kinugasa's hit series Yōkoso Jitsuryoku Shijō Shugi no Kyōshitsu e. We are striving to be the most known encyclopedia that covers information about the You-Zitsu franchise. We are trying to become a more informative encyclopedia to support fans globally.
We are more than happy that you can join us with reaching our main goal. You can start by creating an account and help out instantly. Please help us by creating or editing any of our articles!
With help of 19 active users, we currently have 21,768 edits to
251 articles and 1,109 images on this wiki.

About You-Zitsu Wiki • Characters • Administrators • Recent Changes • Photos • Pages • Help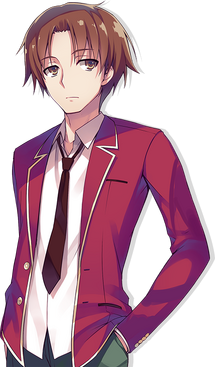 The story takes place at Advanced Nurturing High School, a leading prestigious school with state-of-the-art facilities where nearly 100% of students go on to university or find employment. The students there have the freedom to wear any hairstyle and bring any personal effects they desire. The said high school is a paradise-like school, but the truth is that only the most superior of students receive favorable treatment.
The protagonist Kiyotaka Ayanokōji is a student of D-Class, which is where the school dumps its "inferior" students in order to ridicule them. For a certain reason, Kiyotaka was "careless" on his entrance examination, and was put in D-class. After meeting Suzune Horikita and Kikyō Kushida, two other students in his class, Kiyotaka's situation begins to change.

Honami Ichinose (一之瀬 帆波, Ichinose Honami) is a student and the class representative of class 1-B. As such, she appears to possess a kind-hearted side that even extends indiscriminately to other classes, unlike many other students. This was first portrayed at her debut in the series when she prevented a brawl between C-Class students and Ken Sudō.
Her kindness and friendliness have also allowed her to become friends with Kikyō Kushida and Kiyotaka Ayanokōji easily. Not only that, but later on, she helped the latter by assisting him in gathering evidence to prove Ken's innocence. And though she was under no obligation to do so, she also even served as an accomplice in saving Airi Sakura from being assaulted.
On top of these, she is rather humble in spite of her talents and beauty, she is not at all boastful about it but remains level-headed and speaks to all her peers in the same way. In the light novel, the significance of her role in the series is pretty much recurring and consistent. Though for now, she only serves as a bridge towards the alliance between B-Class and D-Class, soon, she'll surely be one of the triggers for the imminent conflict between the Student Council and the Student Body.
The anime adaptation of Yōkoso Jitsuryoku Shijō Shugi no Kyōshitsu e light novel series was on-air this Summer 2017. The finale synopsis can be found here.

Inaccurate info and spoilers abound: browse at your discretion. Editors, please provide sources for contentious or spoiler info.

From Official You-Zitsu (TV) Website

19 October 2017 - Disclosure of bonus picture of Blu-ray & DVD store purchase privilege
12 October 2017 - Release of Blu-ray & DVD Volume 2 Information
4 October 2017 - On Friday, October 6, GYAO! will deliver all the stories at once. Come and have a look here.
Which male character from the You-Zitsu Anime best describes you?
Which female character from the You-Zitsu Anime best describes you?
Archived Polls
If you see this, your JavaScript might be disabled or DiscordIntegrator plugin isn't working. If the latter, please contact a wiki administrator.
Ad blocker interference detected!
Wikia is a free-to-use site that makes money from advertising. We have a modified experience for viewers using ad blockers

Wikia is not accessible if you've made further modifications. Remove the custom ad blocker rule(s) and the page will load as expected.